Morning Grind 9.26.17
FAMOUS FORECAST
Fall is officially here bringing comfortable temperatures in the low 70's and overcast skies to the District today. Stormy weather is moving in later this evening just in time for the presidential debate.
---
MONDAY JAM
Brought to you by Tazewell Jones of Bryant Row
Isn't it always a good idea to start your day with Beyoncé? And have we ever let you down with our Song of the Day? Exactly.
Whether you're prepping for a big meeting today or a debate party later
tonight
(we see you out there, Morning Consult), we've got the tune(s) to keep you moving in the right direction. Crush it out there, folks!
---
WHAT YOU NEED TO KNOW
You'll Love These Lattes So Matcha
---
HAPPY HOLIDAYS
Blueberry, banana, chocolate chip, strawberry…the options are endless when it comes to pancakes so grab a stack and smother them in syrup and whipped cream because it's National Pancake Day!
---
THIS DAY IN HISTORY
Today marks the first presidential debate between Trump and Hillary in this 2016 race, predicted to be one of the most viewed debates and televised programs in history.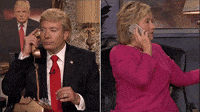 ---
HIGH FIVE
Sam Gordon had an epic weekend.
Michael Kennedy has taken photography to a whole new level.
Want to give a high five to someone who is Famous for DC? Email us at [email protected]