Morning Grind 8.03.16
FAMOUS FORECAST
Suns out guns out! We're getting hit with that 92 degree heat wave today. Stay cool, D.C.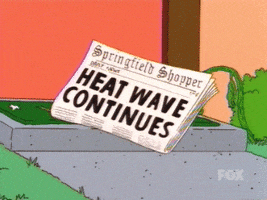 ---
WEDNESDAY JAM
Brought to you by Tazwell Jones of Bryant Row. 
All of your hard work this week is really starting to pay off, and the weekend is getting closer by the second. Naturally, we've got a Song of the Day to keep you amped up and on top of your game. Happy hump day, folks!
---
WHAT YOU NEED TO KNOW
Famous Rant: DC Traffic
The 2016 Presidential Campaign to star in a High School Movie
The Escape Room Live is opening in Georgetown
---
HAPPY HOLIDAYS
There is nothing better than watermelon in the summer so grab a slice to celebrate National Watermelon Day.
---
COFFEE QUOTE
---
THIS DAY IN HISTORY
On this day in 1942, Christopher Columbus started sailing the ocean blue.
---
HIGH FIVE
We miss you Maddy Hay! Hope you're crushing it in Boston.
How tan will Katherine Richardson be when she returns?
Want to give a high five to someone who is Famous for DC? Email us at [email protected]