Morning Grind 8.16.16
FAMOUS FORECAST
High of 93 today – what else is new. Maybe some thunderstorms hitting around 9pm, but let's be real. We know you're on a Netflix binge at that point on a Tuesday evening.
---
TUESDAY JAM
Brought to you by Tazewell Jones of Bryant Row. 
At FamousDC we're all about celebrating the legends who make like worth living. Needless to say, we didn't think twice about dedicating our Song of the Day to Madonna, who today celebrates a birthday (we're not naming numbers – that wouldn't be polite). With thanks to a woman who revolutionized the entertainment world and the regular ole' world alike, we're very grateful for her willingness to reject cultural norms and encourage diversity. Today, let's all keep in mind the message so common to all of her music – openness and acceptance. Here's a Song of the Day to drive that message home. Happy birthday, Madonna!
---
WHAT YOU NEED TO KNOW
Haiku Competition: Win Two Tickets To Newseum Nights!
---
HAPPY HOLIDAYS
Tipsy Tuesday anyone? It's National Rum Day so bring on those mojitos, daiquiri's, and long islan iced teas.
---
THIS DAY IN HISTORY
On this day in 1958, a Hollywood star was born bringing an entirely new name to music. Today, Madonna turns 58 and is still killing it in the music industry. Happy Birthday, Madonna!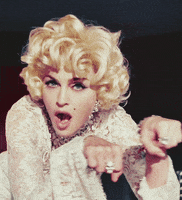 ---
HIGH FIVE
Famous birthday wishes to Chris Golden!
Want to give a high five to someone who is Famous for DC? Email us at [email protected]